2018 Honda Ridgeline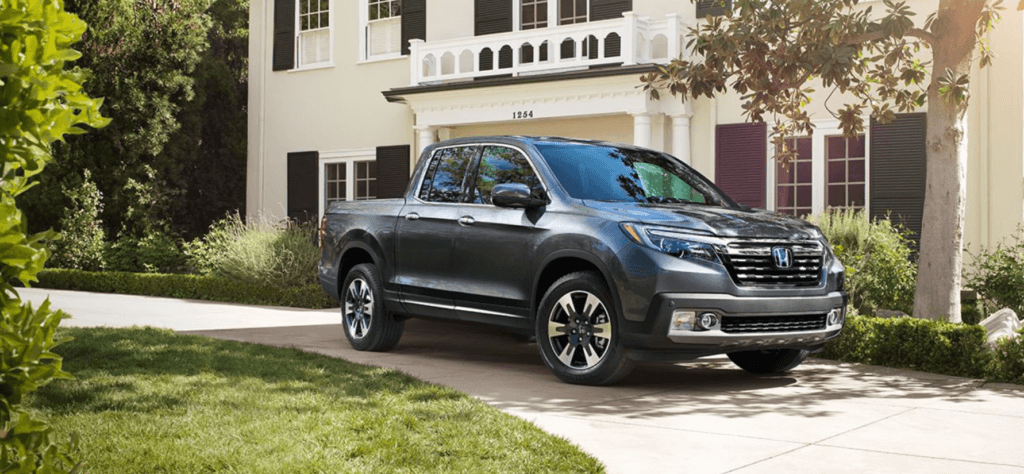 Honda may only have one truck in its lineup, but we assure you the Ridgeline is the only truck you will want. The Freedom Honda team loves the Ridgeline, and you will too! We carry the 2018 and 2019 Ridgeline RL-Ts – the top series of this model.
The Ridgeline offers industry-leading features you won't be able to find in any other manufacturers' trucks. This truck bed comes with the most exclusive features you didn't even know you needed until now. To ease the process of loading and unloading, this truck's tailgate lifts up and down but also can swing sideways out of the way. The Ridgeline offers a wider truck bed with minimal wheel well housings. This means it is a Lay-Flat Truck Bed, so you can get the most out of your cargo space.
I know you're thinking this giant built-in cooler makes this Ridgeline the ultimate tailgating vehicle, and we can't disagree with you, but we can tell you it gets even better. Located in the wall of the truck bed is a 150- to 400-watt AC power outlet. Powerful enough for that large flat screen tv. Or if you just want to jam out in the parking lot, hidden in these truck bed walls is also an unbelievable first-class entrainment system. Yet another feature you can't find outside of a Honda vehicle. Stream any radio station or music app on your phone through the speakers built into the walls of your truck bed. Make the most of your tailgating, camping, or work site.
Another exclusive feature of this model is that the truck body is made of one single unit. This leads to the best possible handling and performance. It gives you optimal control of the vehicle and the smoothest ride out there. This frame offers a lighter and sturdier vehicle ready for anything. Tow up to 5,000 lbs. without feeling like you're towing anything at all. The all-wheel-drive system comes with Intelligent Traction Management with 4 different modes; Normal, Mud, Snow, and Sand. Let your vehicle grip to whatever surrounding environment you throw at it.
Within all these fun exclusive features, we want you to know that the Ridgeline comes with all of today's top safety features too. To name a few, the Collision Mitigation Braking System is an accessory within your brakes that uses sensors and cameras located around your vehicle to monitor other people and obstacles around you. If a possible incoming collision is detected, the system will alert you or even activate your brakes if you are unable to react soon enough. The Road Departure Mitigation System also uses cameras to detect lane markings in the road and alert you if you the vehicle is unexpectantly leaving the lane or roadways. The Adaptive Cruise Control uses smart technology to slow your vehicle down if cruise control detects a slower vehicle in front of you, and even returns your vehicle to the set speed when the other car is out of the way.
The interior of this truck is all controlled at the tip of your finger with the 8-inch display audio touch-screen. You even have a push to start engine, LED lighting around the interior floors and walls, and a center console large enough to fit a 10-inch tablet.
The 2018 Honda Ridgeline is one of the most advanced, versatile, and adaptive pickups on the market today. This vehicle is ready for any project or adventure and contains features only found here at Honda. What more could you ever need? Come into Freedom Honda today to discover why the Ridgeline is right for you!