2019 Honda Insight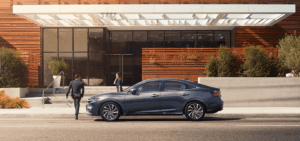 The New 2019 Honda Insight offers an upscale and sleek look not usually portrayed in a sedan. You'll feel comfortable and confident behind the wheel of this sporty and stylish Honda!
Whether it's for your morning commute, weekend drive to see friends and family, or that big road trip you've been waiting for, this car's capabilities and touchscreen navigation will have you covered. The unique and customized look of the chrome grille will turn heads on any road and always make you stand out.
Not only will you look great, but the electric power-assist speed-sensing steering, distance-pacing cruise control, and multitude of driving modes will have the car morphing to your driving style and offer you the ultimate driving experience. The other driving modes include ECON, Sport, and EV. If you're unfamiliar with these terms, the ECON function performs as a slower-acting throttle, while Sport mode is a much sharper throttle. The Sport mode will accelerate and react to your pressure on the gas and brake much sharper than normal, along with making your steering instructions more immediate. This mode is will give you more of that racecar feel. While the EV driving mode uses the electric motor only; this is recommended for shorter, quicker drives.
Along with the precision driving, the Honda Insight's safety features will give you the peace of mind you are looking for in a vehicle. This specific model comes with the Collision Mitigation Braking System (CMBS) plus RCW Forward Collision. The CMBS will use multiple steps to ensure your safety when faced with a possible collision. It will flash a "BRAKE" warning in the MID along with an audio alert. If you fail to act, and a collision is registered as unavoidable, your brake system will take over for you to lessen the force or stop the crash. You can adjust the distance setting within this to make the driving experience as comfortable as possible for you. Other key safety features within this vehicle include Honda LaneWatch right side camera and dual stage driver and passenger seat-mounted side airbags, just to name a few.
While all these give you the best experience from the driver's seat, what about the entertainment? The Honda Insight did not pull up short in this department. This car has an incredibly quiet riding experience like no other. Forget the outside traffic noise and hear only what you want to from the Apple CarPlay and SiriusXM radio features, along with the car's Pandora capability.
Last but not least, the cherry on top of this magnificent model is the time and money you will save at the gas station compared to most models. This car comes with a 52 combined MPG rating that will take you anywhere.
If you're ready for a car that can do it all while offering you top of the line features, it is not out of reach. It is right here at Freedom Honda in Colorado Springs. Come in today to test drive to check out all these features for yourself!