Apple CarPlay and Android Auto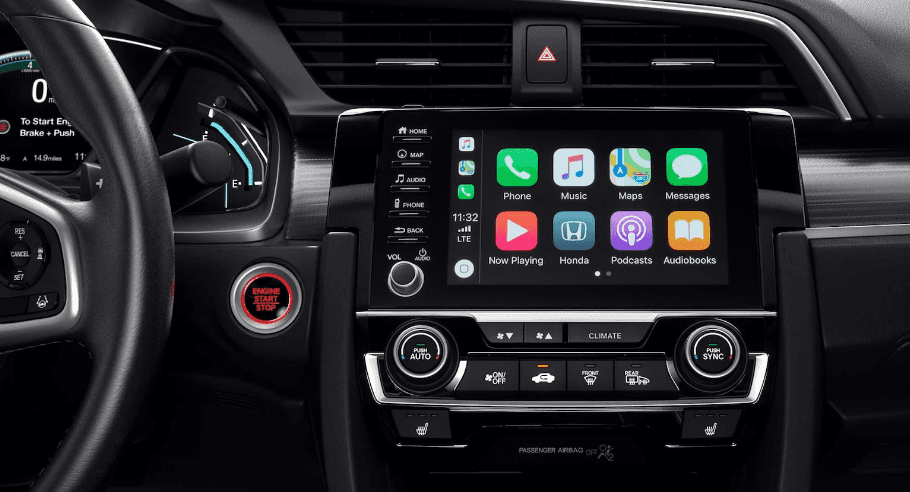 Not every car has the luxury of a supporting application to help make your drives more bearable. Freedom Honda understands that you live a busy life and that means you need to always be on demand with your phone. However, handling your phone hands free simply isn't possible without outside intervention. At least, that would normally be the case. Only available in select cars, like Honda vehicles, Apple CarPlay and Android Auto give you the freedom of managing your phone without taking your hands off the wheel. 
Each provides unparalleled handling for your phone on the go so you don't have to miss a call or even mess with your phone in any capacity. Working with compatible cars, each of these mobile solutions gives you the ability to manage your phone screen without needing to touch it. See which of these fits your needs best below.
Apple CarPlay
The dangers of using your phone on the road are ever present, but you don't need to endanger your fellow drivers or inconvenience yourself by using your iPhone only outside of the car. Apple CarPlay is the simplest way to use your iPhone while driving. The CarPlay puts your phone on a safe display with simple controls so you never have to take your eyes off the road. CarPlay can manage all your important apps, from making phone calls to playing music to using GPS and more, all at the touch of a button, or, in this case, a screen. 
Since CarPlay is integrated into your Honda vehicle, there are simple controls already set up so you never need to worry about your eyes drifting to your phone. CarPlay uses Siri voice control so all you need to do is tell it what you want. If you need a more hands-on approach, you can use the car's controls, such as the dashboard knobs, steering wheel buttons, touchpad, or touchscreen to directly choose what you would like to access. Never worry about using your phone in the car again with Apple CarPlay.
Android Auto
Similar to Apple CarPlay, Android Auto gives you hands-free control of your phone for any trip in your Honda vehicle. Using the Android Auto app, you now have the Google assistant at the touch of a button or one quick command. Handle text messages, Google maps, and much more with the simple command of "Ok, Google," or in a Freedom Honda vehicle, long press the voice control button on your steering wheel to start things up.
Your Android Auto is integrated with your Honda vehicle, giving you the simplicity and ease of access you deserve for any trip in your car, whether that is going to and from work or going on an extended vacation. You spend a lot of time in your car, so you deserve to have the easiest time managing your phone while in it. Android Auto helps you keep your hands on the wheel while managing the different assets on your phone. You can plug your phone in with a USB cable to get things started, then use one of many different apps so you never need to worry about catching up or missing out. Stay safe and stay connected through Android Auto. 
Comfortable Connection
Freedom Honda provides a wide selection of Honda vehicles that are compatible with both Apple CarPlay and Android Auto. You never have to worry about missing out or picking up your phone while in your car again with our wide selection of new and pre-owned vehicles. With high-quality speakers in every vehicle, from the 450-Watt to the 590-Watt premium audio system, you will never miss a text or call and always feel in control. Stay connected and stay safe with Freedom Honda.