Be the Pilot of Your Schoolyear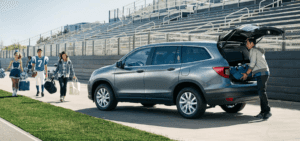 Don't repeat the past…get a vehicle that works for you this year! This Back to School season, take a look at how the Honda Pilot can best prepare you for the carpools, big school projects, and long drives. Save yourself a headache and look into the redesigned 2019 Honda Pilot with all the cargo and passenger space you could possibly need.
This vehicle features more cargo space than other competitors, offering 16.5 cubic feet in the trunk alone and reaching all the way to 84 cubic feet without the seats. Plenty of room for the kids, the kids' friends, the kids' pets, and the kids' school and sports supplies. The Pilot also comes equipped with a complete handsfree Bluetooth system. Make and receive calls without even touching your phone and play any of your music without having to plug your device in. You have enough distractions in the back seat, you don't need to be stressed about what is happening on your phone. Along with this is a customizable display screen, don't try scrolling through menu option after menu option looking for your navigation or voicemail. Make only the apps that you want relevant and up front.
The Pilot is also loaded with top of the line safety features. This includes the Road Departure Mitigation System, or RDM, for short. This system keeps you from unintentionally leaving detected road markings or leaving the road altogether. It uses the power steering to direct your vehicle back into the lane. This won't be an instrument that interferes with your driving. A light-up alert will appear in the display and your steering wheel will vibrate before the power steering takes over for you. This feature is mostly designed for busy highways on longer commutes or road trips. Perfect for your school commutes and fun family weekends.
Like many cars today, the Pilot comes with a Blind Spot Information system that works to help the driver in situations you may not be aware of. It is signaled in this model by a small light on the rear-view mirrors that illuminates when another vehicle is detected in the blind spot. There is also an audible alert given. Both signals are customizable to give you the most personalized experience. But like most features in this car, it is all up to your discretion. You may choose to have one or the other or neither keep track of your blind spot.
Speaking of covering your blind spots, the Honda Pilot can help you pull out of the tightest parking spots during any outing.  Being sandwiched between two cars renders your mirrors and rear camera pretty useless and may cause you to rely on other drivers paying attention and giving you a chance to pull out. The Honda Pilot's Cross Traffic Monitor uses sensor technology to display arrows on your rear camera screen to show you which side a vehicle will be approaching from. It can detect cars up to 82 feet from either side of the vehicle.
A huge feature for your back to school season is the single touch button located on the second-row seating to flip the seats up with ease. Make it easy for anyone, old or young, to load up the car as quickly and easily as possible. Lastly, one of the most convenient features for this school year is the handsfree Power Tailgate. Honda equipped the Pilot with some of the latest technology, which would, of course, include a handsfree Power Tailgate option. If your arms are too full to manually open the trunk, just swing your foot behind the back bumper and the trunk hatch will automatically open. Or even if your keys are too far in the bottom of your purse or bag, as long as the key is in your possession, you don't need to worry about buttons or handles.
These great assets to your new back to school vehicle are just barely scratching the surface of all that the Honda Pilot has to offer. We recommend you come to Freedom Honda to check out this amazing ride and the great deals we have for you!