Garage Organization Tips
Now that we are halfway through the first month of 2019, it's time to make room for all of the outdoor holiday gifts you received, and hopefully a new Honda too! The first step is getting your garage organized and straightened up for the new year.  The Freedom Honda team has put together a list of tips and tricks on garage organization and cleanliness.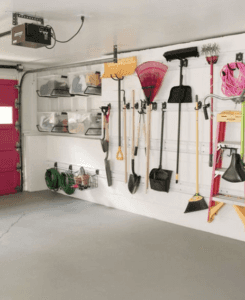 De-clutter:  You need to get rid of all the things you have forgotten about but continue to hold on to. We all do it! Start with the hundreds of baseballs and hockey pucks that your teenager hasn't touched in years and dump that old, cooler from your days at college tailgates! There's no need to throw these items in the trash though. Just because you don't use them, doesn't mean someone else can't. You can donate all these items to a local charity such as Goodwill or a donation box. You know what they say, "one man's trash is another man's treasure!"
Squeaky Clean: You can't start organizing until you have a clean area,to begin with. Grab your rubber gloves and get scrubbing. Vacuum the dust bunnies and scrub the dirt and mud off the ground. The garage is one space that is often forgotten about when it comes to mopping and sweeping so now is the time to give it a little TLC!
Smart Storage: Finding a place to store items may be difficult depending on the size of your garage. Whether you have a three car or a one car garage, you want to maximize your space by storing things on shelves and even on the ceiling. Hanging bikes and beach chairs are a great option to fully utilize your entire garage space. There is usually a selection of bins and storage containers, specifically for sporting equipment, lawn tools and much more at your local store. If your garage isn't very large, add hooks and shelves to take advantage of wall space. There is plenty of room in your garage, it's just about finding a way to use it!
You may not think about it all the time, but your garage is a space you utilize every single day. Finally, once your garage is looking clean and tidy, come visit us at Freedom Honda and let's get you a brand-new Honda to park in that 'new' garage!