Get Your Honda Ready for College
Back to school season is here and Freedom Honda is here to help you prepare your car for college. What better way to help you get ready than getting into the college school spirit with our Air Force Academy Falcons!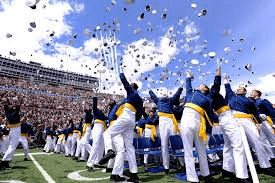 Goodies
You never know when you will hit surprise traffic or be running late to get something to eat on the way to work or class. Keeping small snacks like granola bars and peanuts will help keep you satisfied until you get to your destination.
Owner's Manual
You know that book that came with your car that you never looked at? Keep it in your glove compartment, you never know when it might come in handy! During emergencies, or just little bumps in the road, your owner's manual will hold the information and answers you will be looking for.
Flashlight
Are you pulled over in the middle of the night? Need to change a flat tire? Need to get something out of your car in the dark? A flashlight is the safest way to navigate your way through a dark area and you'll be seen easier by other drivers. You should also keep extra batteries just to be safe.
Aid Kit
You never know when an emergency could arise. From paper cuts to surprise nose bleeds, a first aid kit is always a good idea to keep around. Always better to be safe than to be sorry!
Lots of Change
You never know when you will come across an unexpected toll or need change for a parking meter on campus. You could also need it for a kid-friendly lemonade stand or for a donation to charity! Keeping spare change in your car is never a bad idea.
Cables
What happens if your car has a dead battery? Don't rely on a good Samaritan to help supply you with jumper cables. Keep your own set in your car and you could be the good person to help someone in need on campus!
Oil/Gas Can
If you run out of oil or gas you could get a can from the gas station, but who knows if there will even be a gas station close enough to you? It's not wise to keep a full gas can because they're highly flammable, but keeping a reasonable amount just might save you from a long walk to the nearest pump.
Napkins
Napkins always come in handy while traveling. Spill your soda on your seat, get the bugs off the windshield, wipe the ketchup off your fingers– you'll need napkins more often than you thought.
Snow Brush/ Ice Scraper
Where are you planning to go with frost-covered windows? Nowhere in a hurry, that's for sure. An ice scraper will help you get there much faster. Also, don't forget to brush the snow off your car's roof! The wind shears off the top layers and makes it hard for the driver behind you to see.
You've got your Honda and your essential car items, now get your keys and enjoy your college travels! Let's go Falcons!