How to Make Pet Travel Easy
Traveling can be extremely stressful, both for pet owners and their four-legged friends. Take the pressure off by practicing safe pet driving.
A Pet Parent's Ultimate Travel Safety Guide
Driving with your dog or cat is like riding a roller coaster of emotions. It's normal for pet owners to battle between feelings of excitement and anxiety before taking off on a trip. But if you want peace of mind next time you go on a vacation, consider letting your furry friends tag along for the ride. Here's what you need to do to prep your pet for a road trip: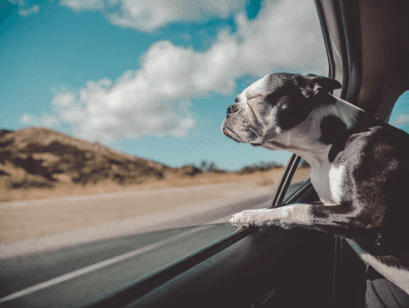 Gear up for the Long Drive 
If you've never traveled with your pet before, gradually introduce him or her to the road. A little conditioning goes a long way. Take a few short drives to get your animals comfortable riding alongside you. 
Update all Shot Records
You'll want to have a copy of your pet's rabies vaccination records on you If you're traveling across state lines. If you have a long trip coming up, make an appointment with your veterinarian and make sure all shot records are up to date. 
Use a Secure, Well-Ventilated Carrier Crate
Your crate needs to have enough space for your pet to stand, sit, lie down, and turn around. Once you've purchased the right-sized crate, make sure that it is secure so it doesn't slide around when the vehicle is in motion. Should you opt out of using a crate, never let your pet stick their head outside of the window. If you can, keep your animal buckled in a harness.
Keep the Doors Locked and the HVAC System on 
Don't risk the chance of your doors opening when your pet is riding along. If you have child-proof controls, take advantage of them so that your animal doesn't accidentally open the doors or roll down the windows. Additionally, you'll want to keep the car at a comfortable temperature. If it's a hot summer day, crank up the air conditioning and during the winter, keep the air heated.
Prepare a Pet-Friendly Travel Kit 
Pack the essentials. Bring pet food, bowls, a leash, waste scoops and bags, and proper medication. If it's a long trip, make routine pit stops to feed your pet every few hours. Always pack plenty of bottled water and keep some pillows and blankets handy in case of an emergency break down. 
Never Leave Your Pet Unattended in the car 
Under no circumstances, is it ever acceptable to leave your pet alone in a parked vehicle. Cars burn up during hot summer days, even when the windows are cracked open. Small dogs and cats can develop heatstroke easily. And when the temperature drops, your car quickly turns into an icebox when left unattended. Your pet can freeze to death if left in a frozen car for extended periods of time.
Travel Safely With Your Best Buddy by Your Side 
At Freedom Honda, we work tirelessly to support you with a reliable, comfortable, and safe transportation. We'll help you find the perfect vehicle for those adventures with your four-legged friends. If you're in the market for a fun and safe source of transportation for your family, then come by our dealership in Colorado Springs!