How to Pack for the Perfect Road Trip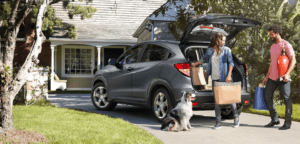 The key to a successful road trip is preparation. Besides having the basics like your phone, a pillow, a blanket, and a first-aid kit, think about other important items that are often forgotten. Make the drive in your Honda more pleasant with these items:
Map
Although you may have GPS or a smartphone map app, it's best to pack an actual paper map. You never know when your phone may run out of battery or break. You can mark it up with notes and see the full picture of your trip. It's also a great prop to serve as a memory of everywhere you've stopped!
Sun Protection
Whether you're outside or inside your vehicle, sun damage is no joke. Make sure to pack sunscreen, sunglasses and even a long-sleeve shirt that will protect your skin while your sitting in the car for hours and site-seeing in between stops!
Stay Entertained with Fun Car Games
Put the electronics down and have some good old-fashioned fun and laughter with car games. This will make the trip entertaining, strengthen your bond with family and friends, and make great memories and inside jokes!
Snacks
Eating heavy, non-healthy snacks can make for a very long and uncomfortable car-ride. Think about packing carrot sticks, apples, trail mix, grapes, granola bars, etc. All quick finger foods that won't make the car a complete mess or leave your hands greasy and gross! These snacks will give you energy and keep you feeling great on long rides!
Medication
In addition to pain relievers, be sure to pack allergy and prescription medications. Packing a little extra medication can be smart in case you lose your prescription or need more. Same thing goes, if you wear glasses, bring a spare set of glasses and contacts.
Portable Chargers
Nothing is more frustrating than losing the battery life on your phone, computer or other electronic devices while on the road. Bring portable backup power, car chargers or wireless charging mats, especially if you're relying on your smartphone as your GPS or if you're driving through unfamiliar places.
Emergency/Non-Emergency Car Kit
You never know what can happen when you're out on the road. Packing flashlights, batteries, jumper cables, antifreeze, a tire inflator, an umbrella, and an AAA roadside emergency card in your car kit will come in handy. Stay comfortable and clean with a non-emergency car kit packed with trash bags, tissues and napkins, cleaning wipes, hand sanitizer, travel-size toiletries and a laundry bag.
Freedom Honda is wishing you a fun and safe road trip! If you need to have your car checked-up before you hit the road, schedule a service appointment with us here!