How To Show Your Honda Some Love This Valentine's Day
Valentine's Day is this week and love is officially in the air. Cupid is flapping his wings and shooting his trademark arrows on couples all over the world. At Freedom, Honda we hope that your Valentine's day is spent celebrating and spoiling your significant other. This day gives us an opportunity to express our gratitude for the ones that have been by your side through thick and then. Friends, family, and even your car deserve love and special attention on this day.
Here are several ways that you can show your appreciation to your Honda vehicle this Valentine's day season:
Take it to the carwash
Clean cars are happy cars. Giving your vehicle a bath is a great way to show that you love the way it looks. After a harsh winter period, it's nice to doll up the automobile so that it feels beautiful again. It's not just what's on the outside that counts though. Make sure you give your car a thorough vacuuming to remove any dirt particles that have accumulated over time. Running your vehicle through the carwash will help the vehicle sparkle and shine like it deserves to.
Polish up the interior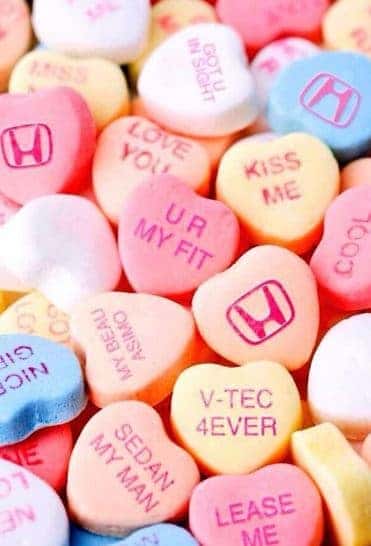 That recent snowstorm really did a number on your interior right? When you track muddy footprints and salt platters into your vehicle, it can really make the car look ugly. Your Honda doesn't deserve to be treated like a doormat, so why let those coffee stains dry out over time? Valentine's day should be time for you to give your interior the makeover that it deserves. Take some time to clean out the inside of your car. Remove all trash and spray down the interior with stain removers and disinfectant spray. If your car is made of leather interior, make sure put the finishing touches on it by spraying it down with a polished solution.
Give it a fresh smell
Think about that time when you originally purchased your Honda. If you had a great shopping experience, then you probably remember the fresh aroma that the car originally had. Unfortunately, that great smell started to fade away the moment the vehicle was sold. Fortunately, there are car fragrances that work just as good (if not, better than) perfume. Eliminate the musty and stale smell that might build up throughout the winter and spray your interior with something a little fresher.
Fill it with fluid
Quench the thirst of your Honda this February 14. Make sure you check the antifreeze and windshield wiper fluid and top it off when the car is running low. It's wise to buy yourself a nice jug of this material along with a jug holder as a personal Valentine gift to yourself. This is a protective cradle that prevents the jug from crashing around and the fluid spilling as the car is in motion.
Show it off
After you treat your car to a spa day, it's time to hit the town to showcase this pride and joy of yours. Pick up some friends or your date and take the vehicle out for an adventure. Your Honda was made to be seen, so make sure to serve this purpose. Capture some memories as you are exploring the open road. Take pictures and give it the photoshoot that it deserves.
We hope you have a special Valentine's Day this week with that special someone but don't forget to show your Honda some love too!