May Spotlight: The Honda Civic Hatchback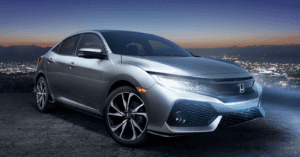 The 2018 Civic Hatchback is beyond bold and aggressive as it stands out from the crowd. Inside, there is a turbocharged engine that will have your heart racing every time you drive! Its sleek and spacious interior makes it super adaptable to anything life throws at you! This Honda is the perfect vehicle for every stage of life!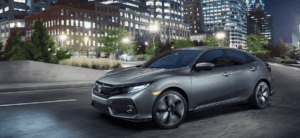 Sporty and Versatile:
The Civic Hatchback features a distinctly aggressive, angular style that is set to excite. Let's start with the LED daytime running lights that give onlookers and oncoming traffic an uncompromising preview of what's to come. Looking sharp, every angle of the Civic Hatchback exterior is the right angle. Its power moonroof ups the driving excitement and fits perfectly amid the sweeping lines that flow over the body.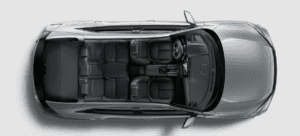 Interior Excitement:
Enjoy a hatchback with an interior that's full of surprises. From its leather and dual-zone climate control to seating for 5 and room for plenty of cargo, this Honda is ready for anything. Be prepared for take-off in a sporty, yet comfortable interior space with your choice of color treatment. Another great feature is the futuristic instrument panel featuring a single-level display that's easy to read so you can spend more time watching the scenery fly by.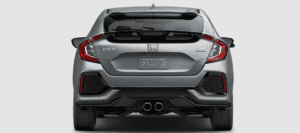 Cutting-edge Technology:
Having cutting-edge technology is perfectly primed for leading the charge for the next generation. Get a better view of what's behind you with a multi-angle rearview camera that offers three different views: normal, top-down, and wide. With summer on the way, use the remote engine start and get the engine running letting it cool down the interior so the temperature is perfect before you even open the door.
Does this sound like the Honda for you? Come in to Freedom Honda for a test drive today!