Pet Safety
If you are like the team at Freedom Honda, we love taking our furry friends out for a ride! Most dogs love going for a ride, whether that be a long road trip or just down the street to the grocery store. Roll down the window (a little), let them stick their head out and they are happy as can be! You have precious cargo when you are driving with "man's best friend" so make sure you have these pet safety tricks and tips down before you hit the road.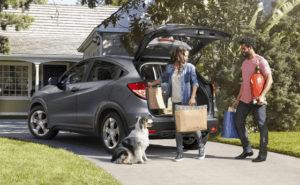 First, you need to make sure your vehicle gives your pet enough room and comfort to move around. Pet luxury may be at the top of your list when you are looking for traits in a new vehicle. If you have a bigger pet, you may want to invest in an SUV such as the Honda CR-V or Pilot. They have plenty of room in the back and front seat for larger dogs. As far as smaller animals go, you could get away with the Honda Accord or Civic.
If you have recently purchased a new vehicle or just want to invest in more inexpensive options, there are many add on's for your pets! Collapsible water and food bowls, liners, pet safety belts and more! These products can give you peace of mind while your pet has a great ride!
Your pet might spend most of the time sleeping but if you are traveling for a longer amount of time, be sure to stop every few hours or when it is convenient, to take a break and stretch their legs. This would also be a good time to give them a snack, treat, and water. Some pet owners like to give their dogs a "travel toy," that they specifically get when behaving correctly in the car.
Stop by Freedom Honda to check out all our "pet-friendly" vehicles! In the meantime, take your furry friend out for a ride today (weather permitting!)