Preventative Vehicle Maintenance – Preparing for The Ultimate Road Trip |Freedom Honda
Get your car ready for a road trip with our pre-trip checklist. Plus, pro packing tips. For any necessary service, come into Freedom Honda!
How to Prepare for The Ultimate Road Trip
Winter is finally ending and we're all longing for the windows down, music up kind of driving days. Whether your plans involve a summer festival, visit your out-of-state relatives, or a journey to the coast, you're going to want to perform a preventative checkup on your vehicle before your road trip.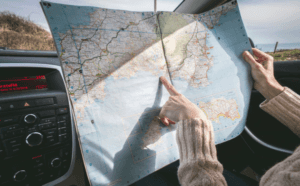 Pre-trip Checklist- We'll start out with the easiest.
Glove box – Make sure vehicle registration and insurance information are up-to-date. Pro Tip: Don't forget your driver's license either!
Fluids – Check them all- that means oil, coolant, brake, windshield-washer, power-steering, and transmission fluid levels.
Wipers – Hopefully, you won't experience bad weather on your Ultimate Road Trip, but an inspection can't hurt.
Radiator – Visually check that your radiator is clear of any obstructions.
Battery – Test that terminals and cables are all securely attached, with no corrosion.
Air Filters – Clean air helps keep the engine running better. Remove the filter and hold it up to a strong light. If you don't see any light, the filter should be replaced.
Tires, Brakes, and Headlights – See our most recent post about National Car Care Month here
Hoses – Let your car sit overnight or at least parked for a few hours. When your engine is cool, squeeze the hose with your thumb near the clamps. Feel for soft or mushy spots. A good hose will be firm but bendable. Examine further for parallel cracks around bends, a hardened, glassy surface, or abrasive damage. If damages exist, have hoses replaced
Belts – Damage to belts will appear in the form of cracks, fraying, and splits, as well as signs of glazing near connection points. If worn, have belts replaced.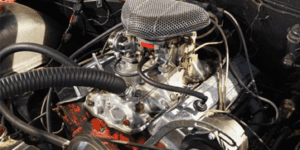 Preparation for the Ultimate Road Trip is not complete without creating a Car Emergency Kit. These items will help in the case of a breakdown; phone charger, hazard triangles to alert motorists to your presence along the side of the road, flashlight, jumper cables, a reflective vest and fire extinguisher. To save time searching pack them all together in a duffle bag.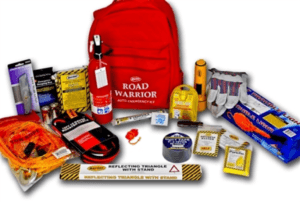 When packing the vehicle, stow the heaviest items low. A low center of gravity reduces the chances of a rollover. Don't place heavier items on top of the cargo pile, because they can become dangerous projectiles in a panic stop or crash.
To avoid possible accidents, reduce distractions. Program the roadside-assistance number if it isn't already. Set streaming music and program destination before you pull out of the driveway.
And, as always, have fun!!