Spring Cleaning: Tips for Cleaning the Interior of Your Vehicle
New Years was months ago and many of our resolutions have become a distant memory. However, spring brings an opportunity to start fresh. You can always check out our service department for any specials we have running at Freedom Honda. If you want to have that feeling of accomplishment and pride then read on for some simple tips and tricks to clean the interior of your vehicle!
Step one, take a deep breath. This will be worth it. Turn on some music and have some fun with it!
Clutter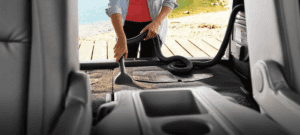 You'll need a garbage can to throw away all the trash that has accumulated. You might want to open all the doors of your vehicle and focus on one seat at a time. Make sure to look under the seats, in the car door storage compartment and the ever-pesky space in between the console and the seat. Vacuum the seats, floor mats, rugs, and trunk.
Surfaces
You can use a mild, cleaning spray to wipe off all hard surfaces of the interior of your vehicle. A bucket of warm water and a few drops of liquid dish soap will work just fine! Using a microfiber towel clean the dashboard, console, door handles, steering wheel and all other non-glass surfaces within your car. For windows, you can spray glass cleaner directly onto cloth and wipe down.
Stains
A go-to stain removal for fabric is a homemade mixture of three parts water, one part vinegar, and one part Dawn dish soap. You don't need to worry if your Dawn is blue, orange or purple. The water will dilute it entirely when you go to dab your mixture on the stain. Always dab the stain with a wet sponge, don't rub. You can dab up the excess mixture from the stain with a dry paper towel. This failproof concoction can also be used on tough grime spots but should not be used on a leather interior!
If you have a leather interior a mixture of one-part Woolite and ten parts water will work. Woolite can be picked up at any supermarket like Walmart or Target for about $5. You can scrub out the stains using either a baby brush or a toothbrush, depending on what area of the vehicle you're cleaning.
Smells
Lastly, you want your car to smell as nice as it looks. There are many ways to accomplish this and it is completely a preference choice. Gas stations or supermarket offer a vast selection of air fresheners, odor neutralizers, scent sprays, oil diffusers or air purifiers.
If you have any other tips that you use to get your vehicle in tip-top shape, we would love to hear them on our Facebook page!