Summer Car Care Tips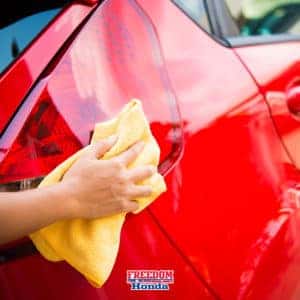 Depending on where you live and drive, summer can take a toll on your vehicle. Here are our car care tips to help your Honda through the sunny season.
Your Honda is built for reliability and performance, even under extreme weather conditions. With proper care and maintenance, your vehicle can get you through the worst summer has to offer:
Keep Your Engine Cool
The cooling system in an engine protects it from overheating and should be flushed periodically as recommended. Make sure your coolant is filled to the proper level by checking the overflow reservoir to keep your vehicle cool in the summer heat. If it is low, you should fill it with a combination of 1 part coolant to 1 part water. You should never remove the cap while the engine is hot because the steam and hot coolant can cause serious burns. 
Keep Your Tires Properly Inflated
Driving on under-inflated tires can cause them to overheat, which increases the likelihood of a blowout. This is especially dangerous when road temperatures are higher than normal. Most Honda vehicles will monitor tire pressure for you—your job is to keep the pressure at the recommended PSI that will be found in the vehicle's owner's manual. 
Keep Fluids at Appropriate Levels
Your engine oil is another important component that keeps your engine cool at higher temperatures. Periodically check all fluids, including your oil, power steering, and transmission fluids to make sure they are all at recommended levels. 
Be Prepared—Pack an Emergency Kit
Even with the best maintenance, breakdowns can occur. Keep some basic tools and a first aid kit handy in case of an emergency. Also be sure you know the number and procedure for calling roadside assistance through AAA or your insurance company.
Stay Safe This Summer With Freedom Honda
Most of these tips are simple and can be handled easily by any driver. The best way to make sure your vehicle is ready for the rigors of summer or to get ready for that next read trip is to take it to Freedom Honda for an inspection and an oil change. Our technicians can make sure your Honda is working as should be expected according to the mileage, and we can easily handle any maintenance needs. 
Summer is a great time to enjoy your Honda vehicle, but before you hit the open road, take a moment to make sure your vehicle is working at its best.