The 2018 Honda Odyssey is perfect for vacations!
Summer is coming, and wi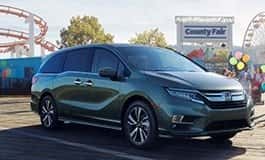 th that comes summer family vacations! Do you get stressed out just thinking about driving your family across the country for a summer vacation? You may ask yourself if the old minivan will even make it to your destination without breaking down; worry no more because the 2018 Honda Odyssey is here! When looking for the next minivan to haul the kids to your road trip destination, you need something comfortable, safe and most importantly spacious! The 2018 Honda Odyssey is just that and more! The Odyssey has been the most popular minivan with individual American car buyers for seven years and continues to impress every year. Every element of the Odyssey was created to meet the needs of families.
The Honda Odyssey is designed for families- featuring a great addition for those road trips is the Active Shutter Grille; which improves fuel efficiency when cruising. CabinWatch uses a ceiling-mounted camera with infrared capability. Mom and Dad can keep a close eye on the children in the second and third row.
The Honda Odyssey is one of the safest vehicles on the road- Odyssey's next-generation Advanced Compatibility Engineering is designed with body structure and advanced airbags, including new driver and passenger knee bags. The Odyssey aims for the highest available safety ratings. The last thing you need to worry about on a vacation is if you are safe! You will always have peace of mind with Honda's safety features!
The Honda Odyssey features cutting edge technology that sets the standard high- A major innovation to family-friendly cabin seating is the Odyssey's new Magic Slide. This feature comes with Easy Access Mode, Super Mode, Wide Mode and Buddy Mode. All these features are designed to bring spaciousness to the cabin. Kick your feet back and relax on that cross country trip knowing you had multiple ways to add more room to the vehicle. Available in-car 4G LTE Wi-Fi and streaming video will keep everyone in the vehicle entertained during your big trip.
Travel in this summer in style knowing you are in a top of the line minivan with unmatched features. Take that once in a lifetime road trip with your family this summer knowing you're in good hands with the 2018 Honda Odyssey. Stop into Freedom Honda today!