Vehicle Spotlight: Honda Ridgeline Or Honda Accord
Two of Honda's premier vehicle options are the Ridgeline and Accord models. We've broken down everything needed to know about these high-quality automobiles. What makes a vehicle great? Is it how fast it can travel? Is it a smooth operating system? Maybe it's the safety features or even some spacious trunk room that truly makes the difference. The fact of the matter is that all of these things should be taken into account when you're ready to purchase a new vehicle. Freedom Honda in Colorado knows the importance of reliability, exceptional ride quality, and affordable pricing brings car owners with a sense of peace.
Fortunately, you can bank on all of these luxuries with two of Honda's latest vehicle models:
These vehicles are two of the most cutting-edge automobiles on the road today. If you're surfing the market for a new, family-sized truck or sedan, then you can't go wrong with either of these carrier items. Here's everything that you need to know about the two Honda vehicles:
The Ridgeline:
The Ridgeline is the ultimate utility vehicle for any outdoor adventure. If you need more cargo room to take those long trips with the family, then this is an amazing option for you to consider. This newer pickup truck defies the norm of large, standard models, yet with a lot of the same torque and power as other large-motored vehicles. Enjoy the comfort and class that resembles that of a luxury sports van, but with more carrying space in a bed trunk that is safe and big enough to haul some of your most valuable and fragile items.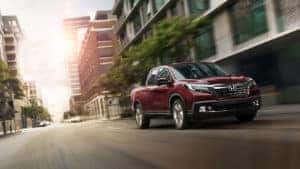 Model:

Pickup truck

Transmission:

6-cylinder automatic

Horse Power:

280 hp

Gas Mileage:

Up to 19 city / 26 highway

Miscellaneous Features:

A towing capacity of 3,500-5,000 pounds, rear view surveillance, lane keeping assist system, Apple CarPlay, and Android Auto, fog lights, push-button start, integrated trailer hitch, dual-action tailgate system.
The Accord:
If you're looking for a reliable and safe vehicle to get you from point A to point B more efficiently, then consider the Honda Accord. This four-door sedan is one of the classic, perennial models in Honda's illustrious family of vehicles. When you think of the term "roadside safety," the Accord immediately registers with a wide variety of people. Whether you just need a reliable source of transportation to get to and from work each day, or you are planning a trip across the state, the Accord is one of the most proven Honda models on the market today.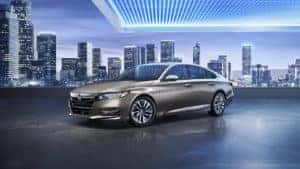 Model:

Four-door midsize sedan

Transmission:

4-Cylinder turbocharger

Horse Power:

192 to 252 hp

Gas Mileage:

Up to 30 city / 38 highway

Miscellaneous Features:

Satellite radio, a built-in navigation system, Honda sensing safety radar/surveillance system, push-button start, Bluetooth handsfree audio control, alloy wheels, dual-zone climate control, automatic LED tail, and headlights.